INSIDE THE LOST PLANET COLLECTOR'S EDITION BOX
I'll admit it - When it's a game I'm excited about, I'm a total whore for collector's editions and pre-order goodies. Needless to say, I pre-ordered the collector's edition of Capcom's Lost Planet: Extreme Condition from Gamestop and figure I'd share some pictures of what you get for your money. When checking out the pictures below, keep in mind that the PTX-40R Vital Suit action figure does NOT come with the collector's edition of the game, but was offered as a bonus for pre-ordering the game at Gamestop.
The Lost Planet Collector's Edition includes the following;
The game
The instruction manual
A soft cover art book
A bonus CD which includes the Lost Planet soundtrack, game trailers, wallpaper, etc.
A card containing a code for a free 48 hour trial of Xbox Live Gold Membership.
A card containing a code for the exclusive multiplayer map that comes with the collector's edition
Click on the thumbnails below to see larger versions of each picture.
While we're on the subject of Lost Planet, am I the only who one finds it utterly hilarious that while everyone else is bundled up against the cold, Luka is walking around with her jacket partially unbuttoned, giving everyone a great view of her cleavage? Hey, I'm a guy - I notice these things.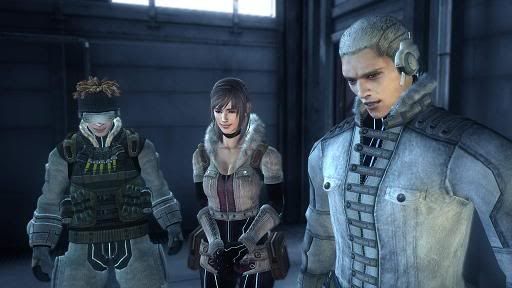 Posted by nylatenite at 5:22 PM EST