Too good not to share - part two
So good, I just had to share - part two Some of you may recall the original "So good I had to share post" I made awhile back (and if you don't, just check back in the blog history - there aren't many here, so it's not like it's all that hard to find.), and this morning while checking messages, I suddenly realized I hadn't posted the latest in that saga...
You see, about a month back, I was walking past that same McDonalds at night, and couldn't believe what I saw - it was another mistake that was just too good not to share!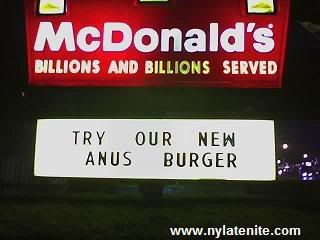 Now I just can't believe that this one was an honest mistake - and no, I have not photoshopped this image - believe me, if I did, I would have done a better job of spacing the letters.
I'm not sure if that case is locked, but my guess is that someone walking by noticed they could get into it, took the "g" and shoved the letters closer together. Regradless, it's still pretty damn funny if you ask me.
Posted by nylatenite at 2:39 PM EST